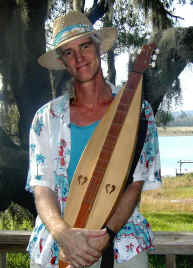 David Beede, of Melrose Florida, is a musician/singer/songwriter who built his first dulcimer in 1973 and has been teaching and sharing his music with folks of all ages for three decades. In concerts, schools, folk festivals, coffee houses and street corners his music has tickled ears from Florida to Maine... from the Paris underground to Dublin Radio. David's music ranges from traditional British Isle folk to original instrumentals and vocals... from the silly to the sublime. Award winning luthier and co-founder of Unicorn Strings Music Company much of his music is rendered on instruments of his own creation.
David's "Eedy Beede" octave dulcimers continue to evolve! Check them out:
To see an "artist close up" video of David building and playing a bunch of crazy instruments. Produced by WUFT TV of Gainesville Florida...
Musical Instruments David plays:
Hammered Dulcimer, Bowed Psaltery, Mountain Dulcimer, Gourd Banjo, Native American flute, guitar, mouth bow, snoot flute, penny whistle, jaws harp, bones, bodhran and more...
Check out Unicorn Strings for the best
Bowed Psaltery on the planet!
(Well, that's what we think...;-)
Simplicity Boats!
Boat Building for the rest of us!
- free plans and inspiration. Go build a boat!!

Dulcimer Tablatures: (Free Tabledit reader here)
Parsons Farewell - Tabledit version GIF image
Castle Kelly - Tabledit version GIF image

The tunes can be heard in the "widget" menu at the top of the page.

Private dulcimer lessons are available. Contact David. (See contact info. below)

Diddley Bow a cool one string instrument!

Songwriting resources:

SUMMERSONG - summer camp for songsmiths! If you write songs or dream of writing songs, beat a path to this event. You'll be forever glad you did. (I'm only sorry I didn't discover it in 1999!

Here are PDFs of my prices on my octave dulcimers and my full sized dulcimers.
Here's a page on how to calculate fret placement using geometry.
A heartfelt celebration of our dear pup Mocha 2001 - 2013
---
---
"The Melrose Song"
is now available!
My buddy Aaron O'Rourke helped me record this
just before last year's Merry Melrose Christmas Parade.
Aaron contributed his inimitable skills on lead and bass dulcimer.
You can hear it by clicking on it in the "widget" above.
It is now included on an updated version of "Trite Secrets."
You can order a copy here.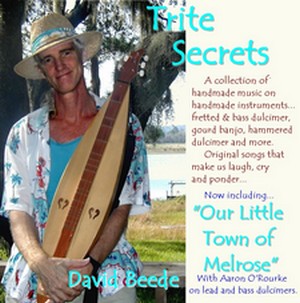 Or click this CD cover.
For a tour of my full sized dulcimers click the picture.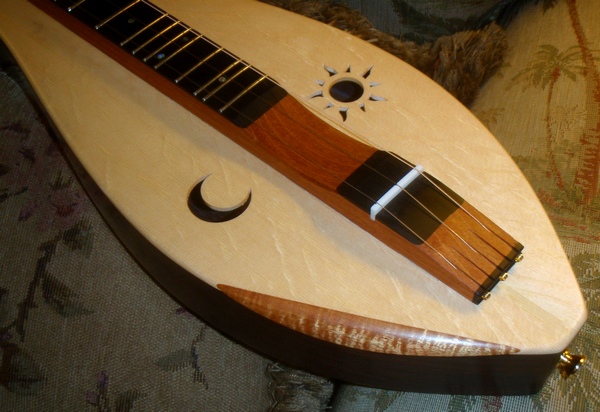 In memory of a great dog named Kayla....